The Town of Knightdale partners with GFL Environmental (formerly Waste Industries) for our Trash and Recycling Pickup and Knightdale is served by the Garner Branch.  The fee for this service is included in your monthly City of Raleigh water bill.
All household garbage should be bagged, and the bags placed within the rolling GFL trash cart to ensure proper service. All recyclables should be placed loose within the rolling GFL recycle cart to ensure proper service.  See this flyer regarding acceptable recyclable materials.
Please place your collection containers at the curb the night before your scheduled pick-up day to ensure you get serviced.
Roll-out containers must be removed from the curb the night after trash/recycling is collected (either Wednesday or Thursday, depending on your location within the Town). They may be placed at the curb no earlier than noon the day before. Violators may be fined $20 for each incident.
Please don't leave bags on top of or around your cart. Also, please keep the containers at least three feet away from utilities, storm drains, mailboxes, etc. especially during or after severe weather.
Please call Public Works at 919-217-2250 for the following:
Set up a new solid waste collection service
Report damaged roll-out trash or recycling cart
Report a missed trash or recycling pick-up
Report issues with your service
**HOLIDAY SCHEDULE AFFECTING TRASH COLLECTION**
For 2023, the holidays that will affect Town residents will be Memorial Day (May 29), Independence Day (July 4), Labor Day (September 4),  and Christmas (December 25).  During those weeks, trash and recycling collection will be delayed by one day.   

For Thanksgiving, November 23, only Thursday residents will be affected. They will be serviced on Friday, November 24.  Trash for Wednesday residents will be picked up as scheduled.
 Please refer to the images below to find your scheduled pickup day:
WEDNESDAY                                                                    THURSDAY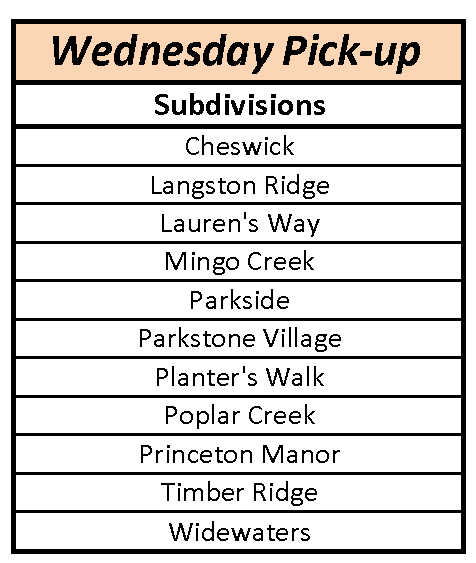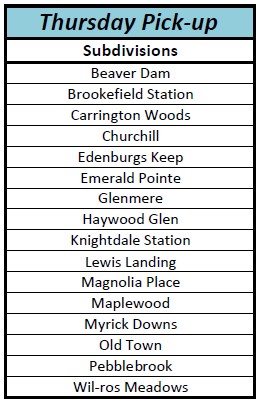 Construction Debris
Construction Debris is not collected by the Town in any fashion.  All construction demolition or debris must be handled by third party contractors.  Do not locate construction debris dumpsters or roll-offs on Town Streets, they must be inside the perimeter of the job site area.