COMMUNITY OVERVIEW
Knightdale is located in eastern Wake County, just minutes from Raleigh, North Carolina's state capital. The Town has more than 20,000 residents with a robust transportation system to support our emerging business base. Incorporated in 1927, Knightdale's jurisdiction covers approximately 17.85 square miles.   We are a vibrant and youthful community located in one of the fastest-growing regions in the country.  We invite you to #startsomething in the Town of Knightdale!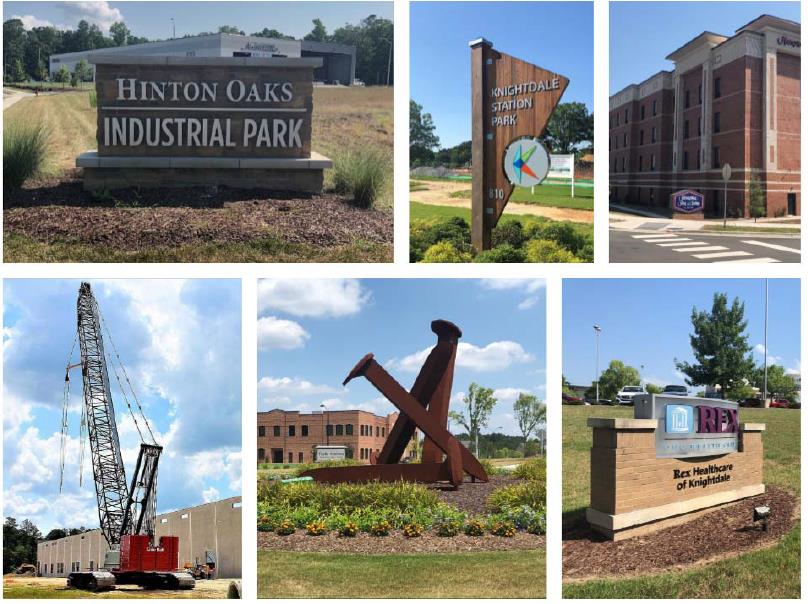 HISTORY
Knightdale received its articles of official incorporation from the North Carolina Legislature on March 9, 1927. The first Mayor was Bennett L. Wall. The aldermen were N.G. House, J.F. Keith, L.A. Doub, J.T. Ramsey, and C.L. Robertson. 
EASY ACCESS
Knightdale offers businesses and residents easy access to the Research Triangle Region by way of I-540 and US Highway 64.  Thanks to the designated I-87, the entire eastern seaboard is within reach by way of I-95 (less than 40 minutes away).  In addition, RDU International Airport is only a 27-minute drive from Knightdale via I-540. 
RECREATION
The Town's commitment to parks, greenways, and open space makes it an excellent place to raise a family. Knightdale Station Park is over 70 acres and includes miles of paved trails, a dog park, athletic fields, playgrounds, bathrooms, large picnic shelters, an amphitheater, and a Veteran's  Memorial.
GROWTH
Since 2000, Knightdale has grown by 153%.  It is the 10th fastest-growing municipality in North Carolina.  
GOVERNMENT
The Town of Knightdale operates in a Council-Manager form of government. The citizens of Knightdale elect a mayor and a five-member Town Council.  The elected Council creates a vision for the Town by setting policies, goals, and strategies for the local government, including adopting necessary laws and ordinances. 
EXCELLENT & DIVERSE MARKETPLACE
Knightdale is a wonderful place to live, raise a family, work, and establish a business. In addition to providing a highly desirable quality of life for every type of business and its workforce, Knightdale is an excellent marketplace for businesses and entrepreneurs to offer goods and services of all descriptions.