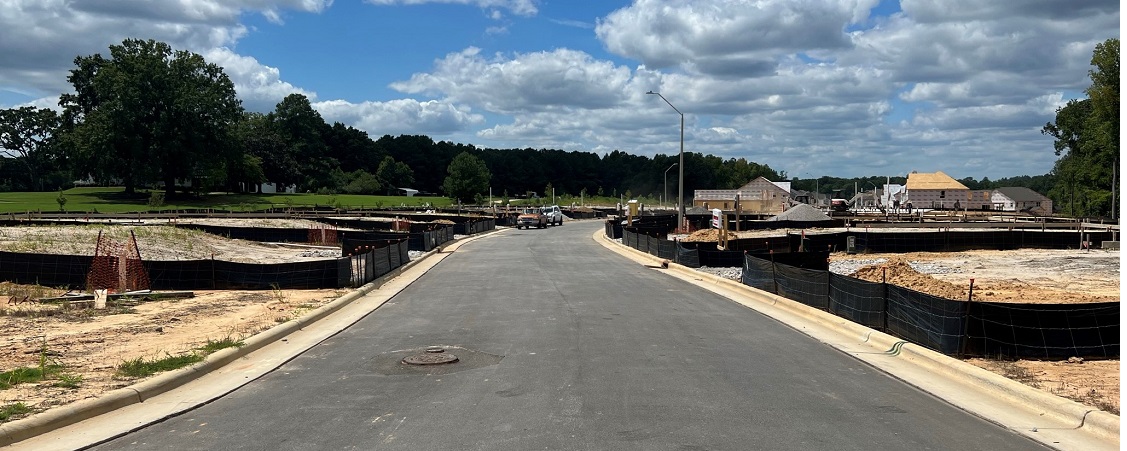 ALL BUILDERS AND DEVELOPERS DISTURBING LAND IN A SUBDIVISION (COMMON PLAN OF DEVELOPMENT) ARE REQUIRED TO HAVE A LAND DISTURBANCE PERMIT, EVEN IF THE DISTURBANCE IS LESS THAN 1 ACRE.
Builders outside a subdivision shall obtain a permit if disturbance is greater than 1 acre. Lots less than 1 acre are required to install a stone construction entrance and install silt fence as needed to prevent sediment loss to stream buffers, adjacent lots or roads.
Fees
Fees will be invoiced upon submittal. Fees include plan review, permit issuance and inspections for a 2-year period.
The sediment and erosion control plan review fee for single family residential lots will be one for the following, chosen by the applicant.
1) $250 per acre
2) Flat rate of $100 per lot, regardless of land disturbance acreage. 
Permit Fees: $250 per acre of disturbance for grading permit, per the Town's Fee Schedule – Prorated. Fees include plan review, permit issuance and inspections for a 2-year period. Example: 0.4 acres times $500 = $200 due.
Plan and Permit Requirements
All lots that are part of a larger common plan of development or sale (see definition below) must submit an erosion and sedimentation control plan and obtain a land disturbance permit.
Common Plan of Development or Sale:
A contiguous area where multiple separate and distinct construction activities may be taking place at different times on different schedules under one common plan. The "common plan" of development or sale is broadly defined as any announcement or piece of documentation (including a sign, public notice or hearing, sales pitch, advertisement, drawing, permit application, zoning request, computer design, etc.) or physical demarcation (including boundary signs, lot stakes, surveyor markings, etc.) indicating construction activities may occur on a specific plot.