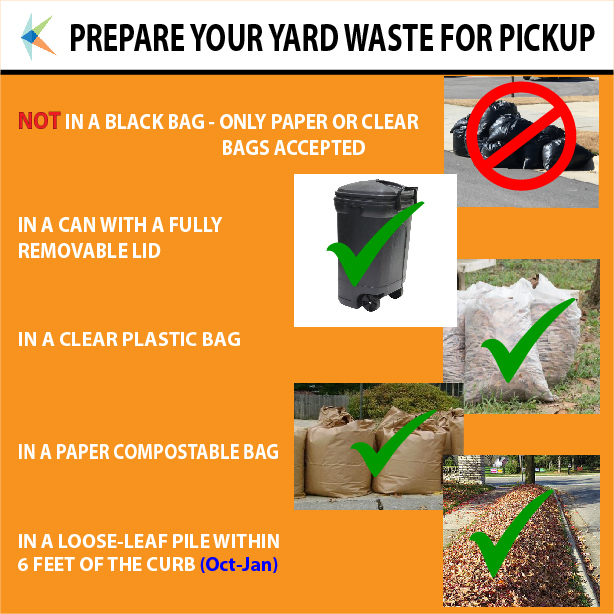 | | |
| --- | --- |
| Loose Leaves (Oct.-Jan.) | Yard Waste   |
| Loose-leaf pickup runs late October until early February. | Yard waste is picked up year-round, even during the loose-leaf season. |
| Pile your leaves at the curb by 7:30 AM on your first scheduled day, and follow all loose-leaf pickup rules below. | Have your CLEAR or compostable paper bagged yard waste or container at the curb by 7:30 AM on Monday.  It will be picked up by Friday, each week. |
| Your leaves will be vacuumed up before your next scheduled pick-up day. | You may use clear leaf bags for your yard waste, compostable paper bags (not over 30 lbs each) or you may use a reusable plastic container with a fully removable lid available at your local hardware store. Full plastic containers cannot exceed 50 lbs. in weight. |
Yard Waste Pick Up Rules:
Please have all organic waste to the curb by 7:30 am on Monday.  The amount of debris to be collected affects our workflow, so we cannot predict which day we will reach your home; however, every street is serviced once a week.
All yard waste (grass, leaves, small debris) must be placed in clear plastic bags, brown paper compost-able bags or a reusable plastic container(s).  Bags that are over 30 lbs. or too heavy to be picked up without breaking will not be collected.
The Town encourages residents to purchase rolling plastic reusable containers such as the ones pictured below, from a local hardware store and place yard waste in these.  This will reduce the amount of plastic bags entering the waste stream.  Please ensure plastic containers have a completely removable lid and weigh no more than 50 lbs when full and are not overflowing.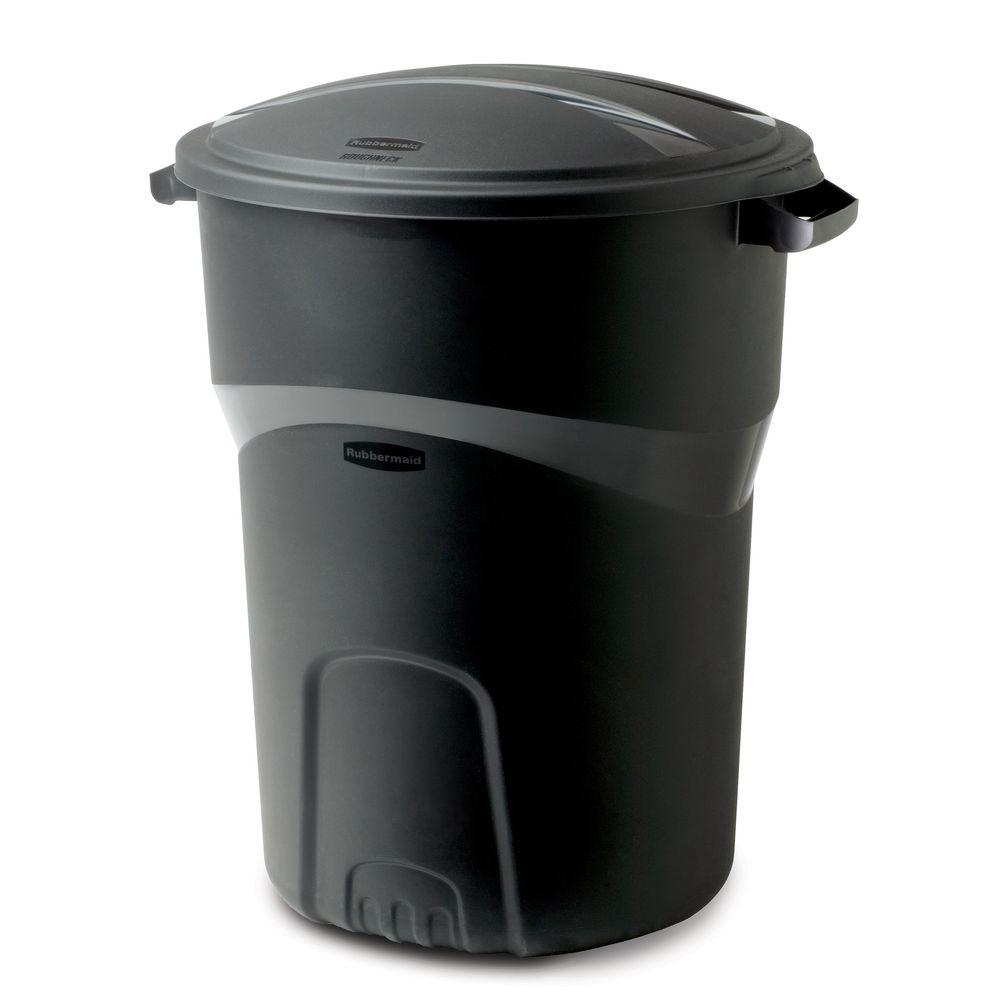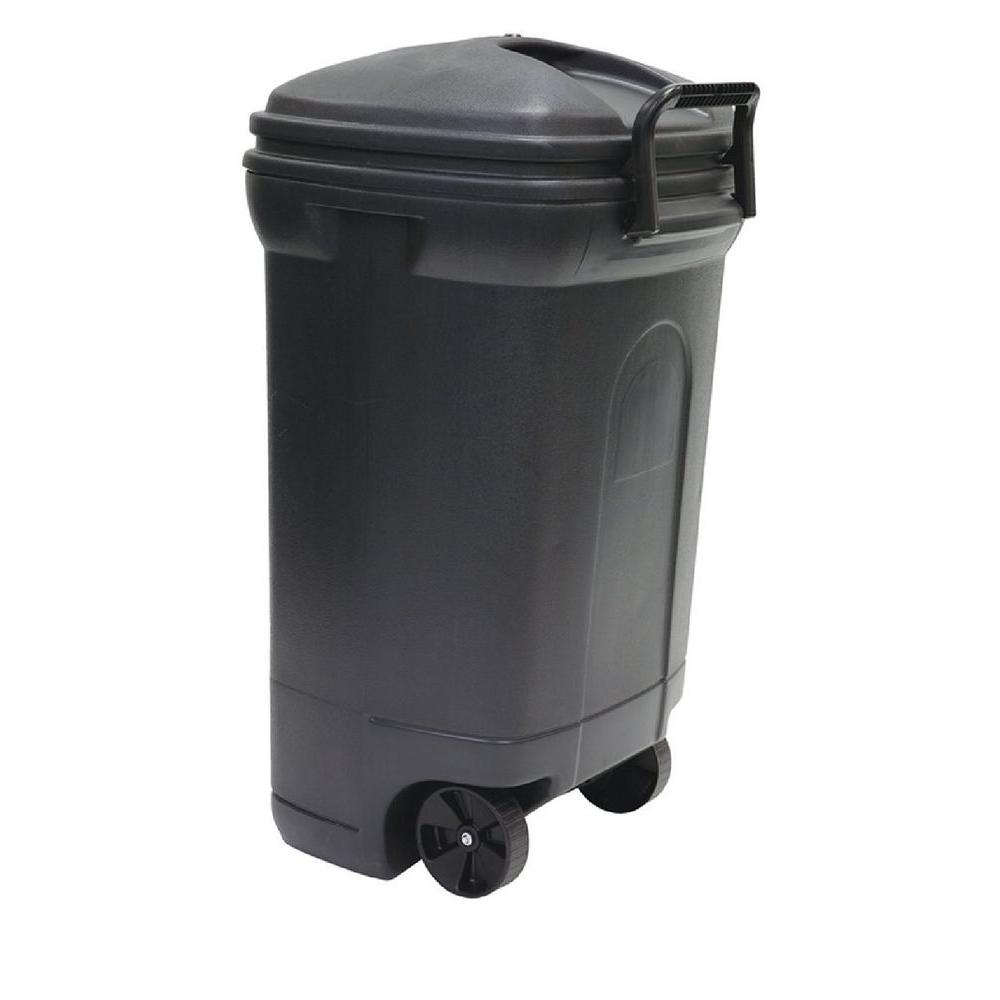 DO NOT put anything other than organic yard waste out for pickup.
Due to safety concerns and following policy set by Wake County and City of Raleigh Solid Waste Collection, we can only collect yard waste in clear bags, compost-able paper bags, or plastic container bins. You can find the bins at your local hardware store.  Please make sure your bin has a completely removable top, not a hinged top.
Knuckle Boom Truck - Large Debris: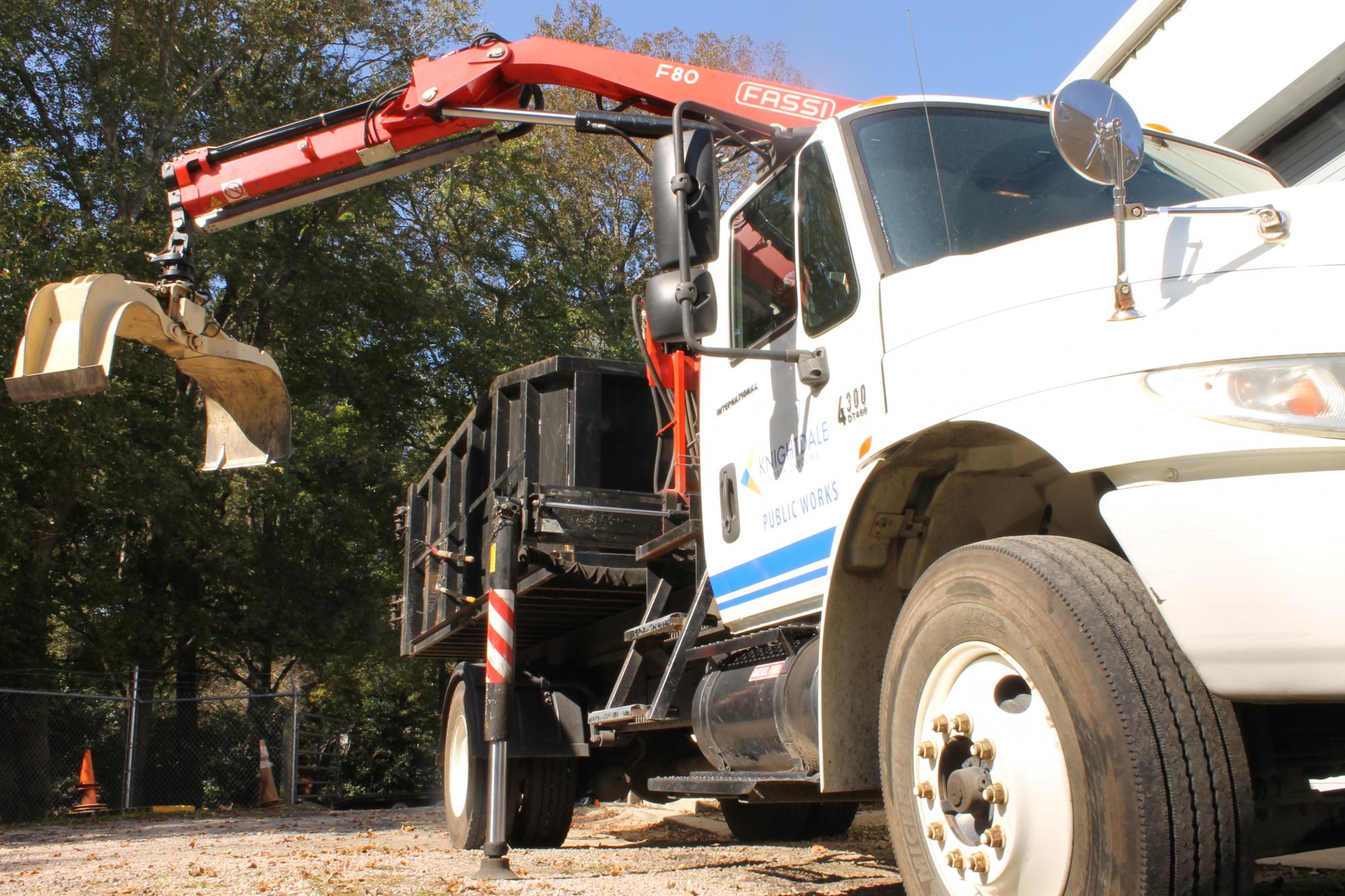 For residents convenience, the Town operates a knuckle boom claw truck for large debris pick up. This route in serviced weekly starting at 7:30am on Monday mornings.  The service may not run on some shortened holiday weeks, such as the week of Thanksgiving and Christmas.
This is a separate, larger truck and only large piles of brush, limbs, or trunks can be effectively picked up, please use the hard plastic containers noted above for small loose piles of organic waste (sticks, small clippings, prunings, etc.).
No limbs, branches or trunks longer than 8'.
No single diameter larger than 8".
No Tree stumps. 
Small piles cannot be effectively picked up by the large claw, these should be in a container as noted in the Yard Waste section above.
Contractor waste is not accepted.  Your Contractor should make arrangements to haul waste offsite.
Please keep items away from traffic, parked cars, and utility poles, boxes, etc. The Town cannot collect yard waste which is around or near obstacles, using the knuckle boom truck.
In some cases, we may be chipping up the debris on the spot. Please DO NOT place any foreign debris or trash in yard waste piles.
 Loose-Leaf Pick Up Rules - Late October Through January:
All loose leaves must be ready for pickup by 7:30 AM on your first scheduled day:
Leaves must be raked loose to the back of the curb or edge of the yard.  
Loose leaves must be piled within 6 feet of the edge of the pavement to ensure accessibility for our equipment. Please do not pile leaves in the street or gutter.  We will not be able to collect piles within 5 feet of parked cars.
Grass clippings and trimmings may also be placed loose at the curb and will be collected by the Vacuum Trucks. NO branches please.  Branches may be placed in an approved container as noted above, or set for pickup by the knuckle boom depending on size.
For the safety of our crews and equipment please ensure there are no rocks, or other debris mixed in with leaf litter.  The Town will not be able to collect leaf piles where other litter is present.
If you use bags for your leaves, please ensure they are clear bags or paper compostable bags.  We will not pick up anything but clear bags or approved containers to ensure the safety of our staff.
Historically, the Planters Walk neighborhood produces a majority of the leaves collected throughout Town due to their large number of mature trees.  For that reason, Planters Walk's leaves will be collected beginning on a separate week.  This schedule will ensure every resident in Knightdale will have a leaf truck by their home at least five times throughout the season.  It is better to put out small piles as time goes versus waiting and putting out one large pile.
 Please have your loose leaves out by the curb by 7:30 AM on your pickup day.
The Town is unable to determine the exact pickup day as weather and volume determine the ability for the trucks to serve all areas.  
Note that the dates listed below represent the FIRST day of pickup for your area. 
| | | |
| --- | --- | --- |
| Planters Walk | All other Neighborhoods | Notes |
| Oct. 23 | Oct. 30 |   |
| Nov. 13 | Nov. 20 |   |
| Dec. 4 | Dec. 11 |   |
| Dec. 27 | Jan. 2 | Staggered start dates due to Holidays |
| Jan. 15 | Jan. 22 |   |