The Town of Knightdale recognizes that food trucks are an exciting and integral part of our community's sense of place.  As such, a permit process has been created for food trucks to operate safely in Town.
Definition:  A food truck is a licensed motorized vehicle or mobile unit which is temporarily stored on a private or public owned property where food items are sold to the public
Food Truck Process
Food Truck vendors will complete the Food Truck Permit Application and submit to Town Hall for review
Pay the Food Truck Permit Fee (found in the Town of Knightdale Fee Schedule)
Receive a Town of Knightdale Food Truck Permit Sticker
Place the Permit Sticker on the serving window side of the food truck
The Permit Sticker must:

Always be visible
Be permanently adhered to the food truck
Not be altered

Permitted Food Truck Locations
Several locations on Town Property will have designated Food Truck Parking places:

Knightdale Station Park
Harper Park
Wake Stone Athletic Park

On Town Property, Food Trucks may not operate outside of designated parking spots
Commercial Properties with an existing retail/restaurant, office/service, or entertainment/recreation use

Must have written permission from Property Owner

Please follow the guidelines with the Food Truck Requirements section.  Failure to do so may result in revocation of the Food Truck Permit without refund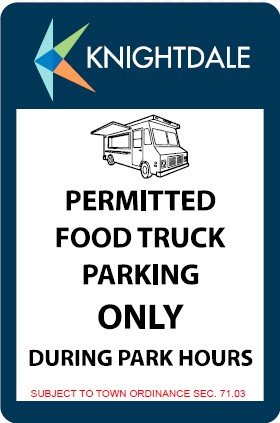 Town Event Selection Process
Purchasing the yearly permit allows food trucks to be entered into the selection lottery process to attend Town sponsored events.  A random number generator will be used to make selections.  When a food truck is selected, they receive priority to attend the designated standard event.  Attending a standard event removes them from consideration for future standard events, until all permitted food trucks have their number drawn.  If facing a limited participation of food trucks for an event, we reserve the right to reach out to non-permitted food trucks.  Standard event participation does not affect special event lottery process.
At any time, the Parks and Recreation Department reserves the right to select food trucks that closely fit the theme of the standard/special event whether the food truck is permitted or not (i.e., Latin American Festival, African-American Festival).
Special Events include, but are not limited to:  Latin American Festival, July 4th, the Arts & Education Festival, Christmas on First Avenue, and Christmas Parade.
Designated parking spots on Town Property will not be available during Town sponsored events.
Permit does not guarantee a spot for events but will qualify the business for event lotteries.
Food Truck Requirements
Food Trucks may be permitted on a parcel with an existing retail/restaurant, office/service, or entertainment/recreation use
Each food truck must have an individual permit
A maximum number of food trucks per commercial parcel:

Two (2) food trucks shall be allowed on parcels less than 1 acre in size
Three (3) food trucks shall be allowed on parcels between 1 acre up to 2 acres in size
Four (4) food trucks shall be allowed on parcels greater than 2 acres in size
Additional food trucks may be allowed at special events with prior permission

Food trucks shall locate only within the side or rear yard.  No food truck shall locate in a front yard.
Food trucks shall be located at least one hundred (100) feet from the customer entrance of an existing restaurant.
A food truck shall locate:

Fifteen (15) feet from any fire hydrant
Five (5) feet from any driveway, accessible ramp, emergency call box, or building entrance/exit

The operator must provide a waste receptacle for customer use within fifteen (15) feet of the food truck.  The operator shall remove all trash at the end of its operating hours.
Town of Knightdale trash receptacles may not be used to dispose trash or waste generated by a food truck
Grease or other liquid waste shall not be disposed of in tree pits, storm drains, the sanitary sewer system, or public streets
Temporary connections to potable water systems shall be prohibited
At least one (1) fire extinguisher shall be located on board the food truck during operation
Hours of operation shall be limited to between 7:00 am - 10:00 pm unless otherwise posted

The operator shall provide appropriate on-site lighting in compliance with any applicable standards of Section 7.7 if operating after sunset

One (1) Sandwich Board sign shall be allowed subject to the requirements of Section 8.4 (F)
Food trucks shall not use audio amplification devices
Food trucks shall not operate a drive-thru service window or door
Food trucks are subject to a Town-wide noise ordinance
A permit issued for a food truck shall be valid for the twelve (12) month period beginning January 1 and ending December 31.

Permit costs are not prorated
Other Uses:  The administrator may issue other temporary uses and activities, or special events including specific time limits, if it is determined that such uses are clearly of a temporary nature, and will not jeopardize the health, safety, or general welfare, or be injurious or detrimental to properties adjacent to, or in the vicinity of, the proposed location of the activity.
Quick Links: