Parks, Greenways, and Facilities
IN RESPONSE TO THE COVID-19 PANDEMIC, KNIGHTDALE PLAYGROUNDS ARE CLOSED UNTIL FURTHER NOTICE. PARKS, GREENWAYS, ATHLETIC FIELDS, AND COURTS REMAIN OPEN. VISITORS ARE REQUIRED TO PRACTICE SOCIAL DISTANCING AND MAINTAIN SEPARATION OF SIX FEET FROM OTHER VISITORS TO THE PARK.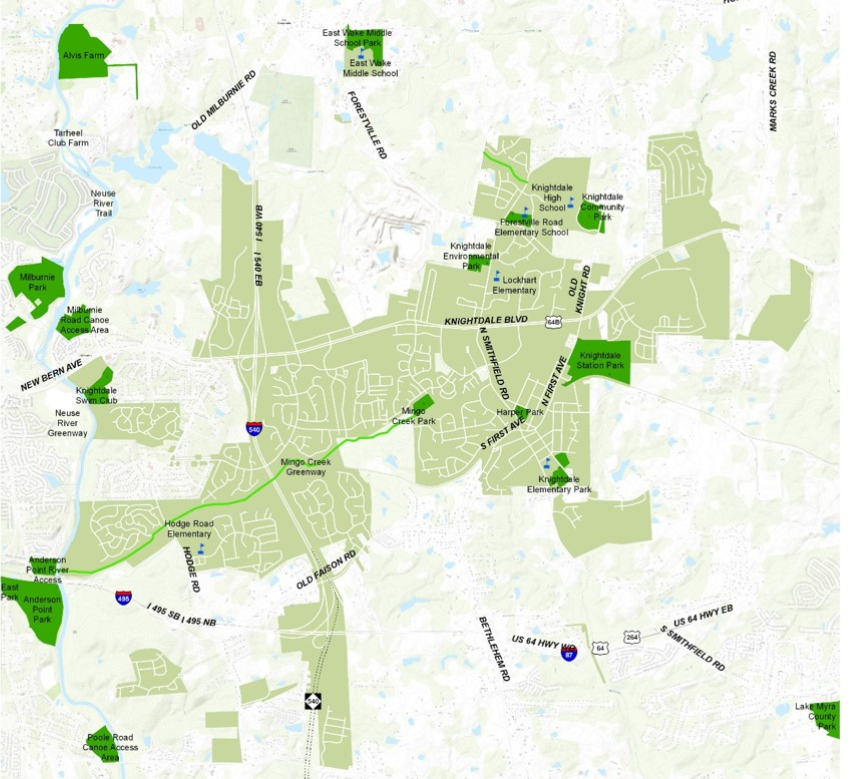 Knightdale Parks and Recreation provides multiple parks, greenways, and facilities for citizens and visitors to enjoy.
Parks and Greenways
Parks and Greenways in Knightdale include Knightdale Station and Trails, Knightdale Community Park and Trails, Environmental Park and Trail, Mingo Creek Park and Trail and Harper Park.
Harper Park and Trails
207 Main Street
Knightdale, NC 27545

Knightdale Community Park and Trails
101 Bryan Chalk Lane
Knightdale, NC 27545

Environmental Park and Trails
950 Steeple Square Court
Knightdale, NC 27545
Knightdale Station Park and Trails
810 N. First Avenue
Knightdale, NC 27545

Mingo Creek Park and Trails
100 Parkside Commons Dr.
Knightdale, NC 27545
Knightdale Recreation Center
102 Lawson Ridge Rd.
Knightdale, NC 27545
Knightdale Community Pool
202 Milburnie Rd.
Knightdale, NC 27545